Thermal Imaging Demo, Engineer Your Own Blinky Lights, and Check Out a PC Build Demo
Shared by Girl Day Innovator: Advanced Micro Devices
Recommended Grades: 6th, 7th, 8th
High-Performance Computing is Transforming Our Lives
The Challenges: Join us as we explore the possibilities of high-performance computing!
Meet some of our engineers
See what a motherboard looks like when it turns on
Engineer your own circuit with blinking lights
Learn how to build a gaming computer
Recommended Materials: Your imagination!
Head to the Activities tab for all the activity information. 
How does this activity connect to STEM and today's Girl Day theme of Creating in Code: Computing, Cybersecurity, Robotics?
Engineers get to use their creativity to solve problems! Not everything has a manual, so engineers use their imagination to figure out the best path.
At the AMD booth, we make the brains of computers and they are powerful, just like yours! Computers are involved in everything these days: Medical research, making movies, playing video games, video chatting with family, and doing homework and school!
Come learn how we build computers, look at computers, and create computers with our engineers!
Activities:
Thermal Imaging Demo
Engineer Your Own Blinky Lights
PC Build Demo
Thermal Imaging Demo
Welcome to AMD's online, hands-on activity for #UTGirlDay! We are excited to have you here and hope you learn a lot during your UT Girl Day experience.
This article will cover thermal imaging of electrical components. When an electrical component is turned on, some of the energy from the electronics is converted into heat. You have probably noticed this if you have used a computer or a phone for a couple of hours. By using an image of the electronics that shows hot spots, engineers can see which electrical components are drawing too much power or are close to breaking.
Today, we will be exploring the heat signatures that can be found on a computer motherboard. A motherboard can be thought of as the control center for your computer. For desktop personal computers, or PCs, the motherboard houses hundreds of tiny electronic components – like resistors, capacitors, or integrated circuits (tiny circuits on your circuit, called ICs) – that all work together. Each IC and component can generate heat while you use the computer.
But how can you see heat? Can't you only feel heat?
Heat can be seen using a specialized camera called a thermal camera. The one we will be using today is called an infrared thermal camera, meaning it utilizes wave energy in the infrared spectrum to see the heat.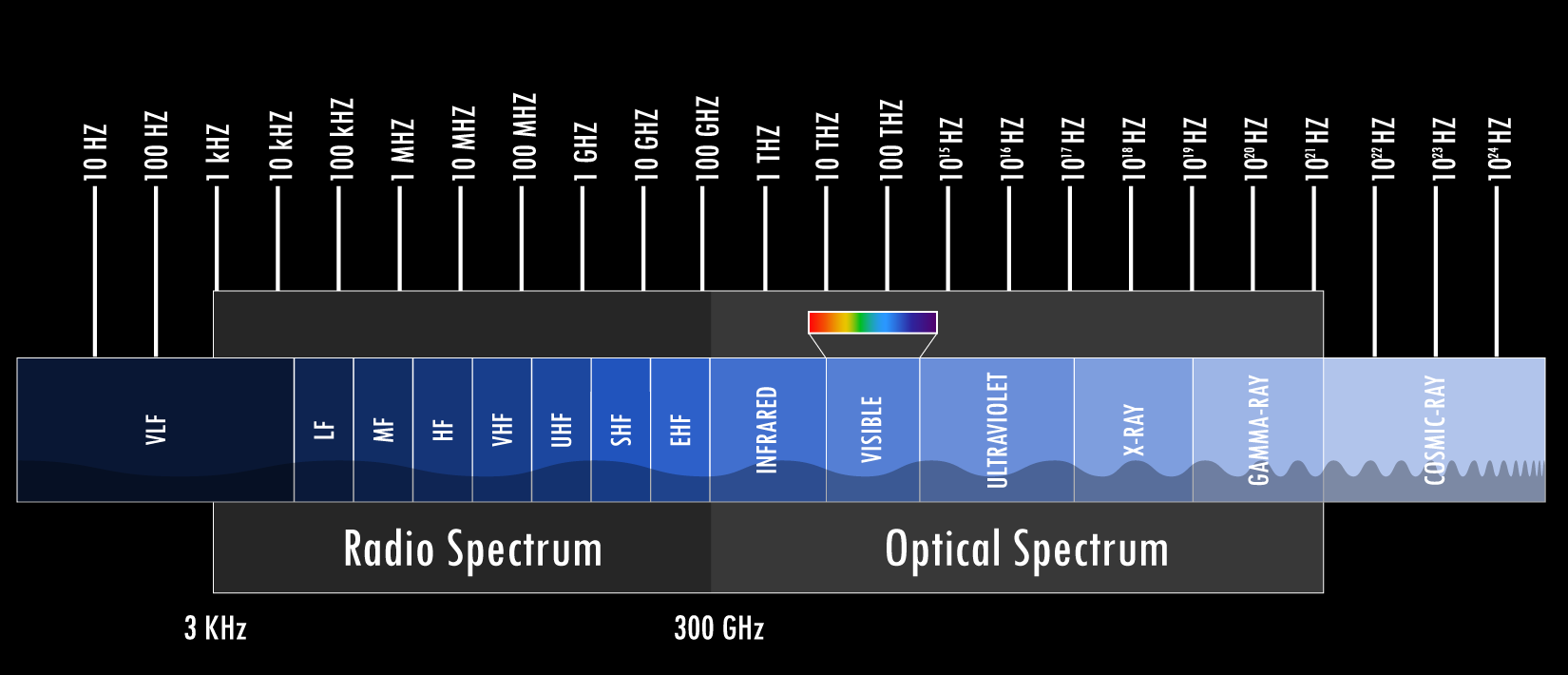 When you look up at the sky, you probably see blue. That blue color is a specific wave energy that can be seen by your eyes. Infrared is like another color, except that no humans can see it. But, when things get hot, they release infrared wave energy. So, if we can make a camera that sees infrared, we can see heat and visualize temperatures!
So, let us put this into practice. Here is a computer underneath an infrared thermal camera in one of the AMD labs. We will be focusing on the motherboard of this system.
The motherboard is the big red board in the top left of the photo. Let's turn the system on and see what we can find!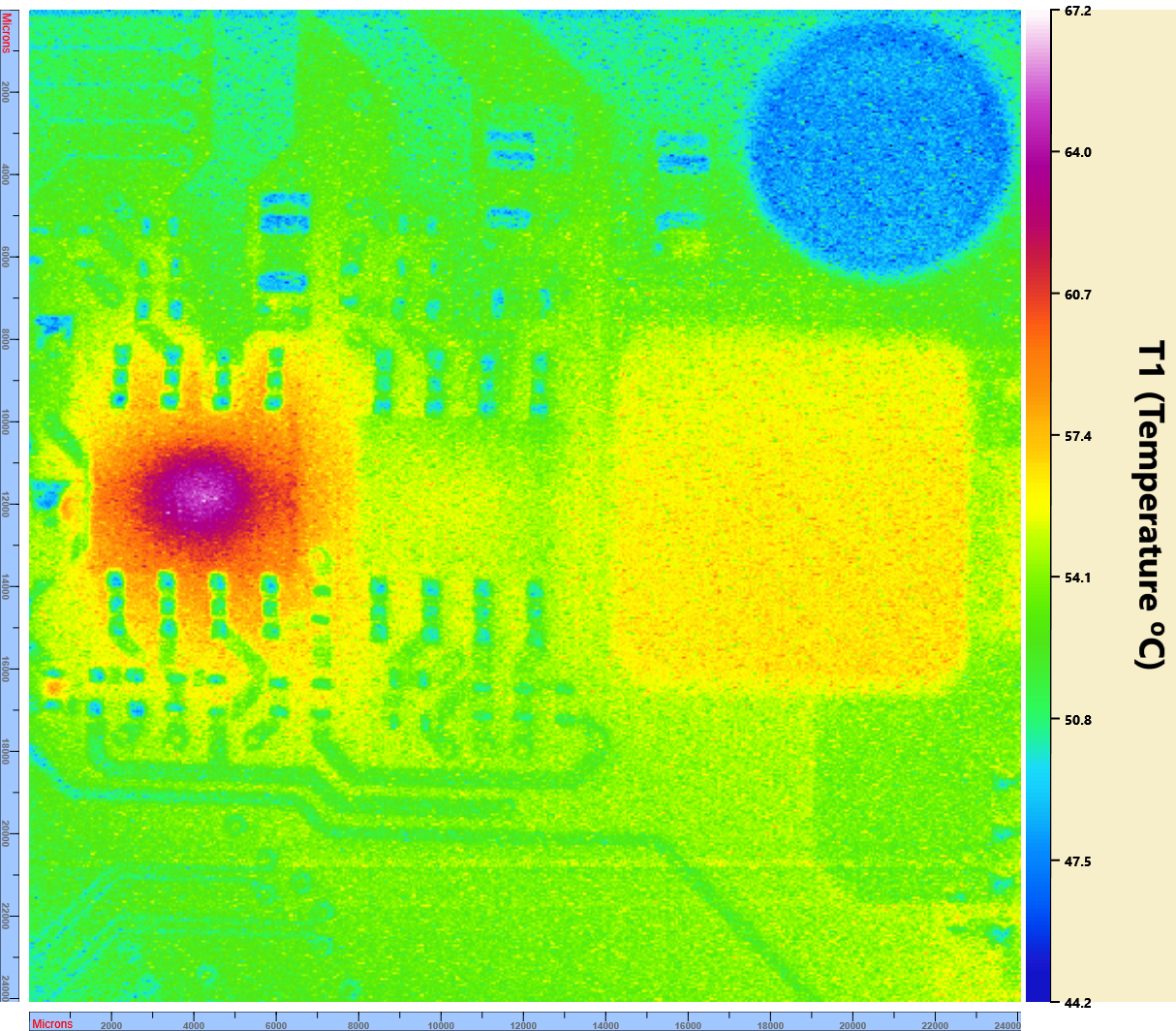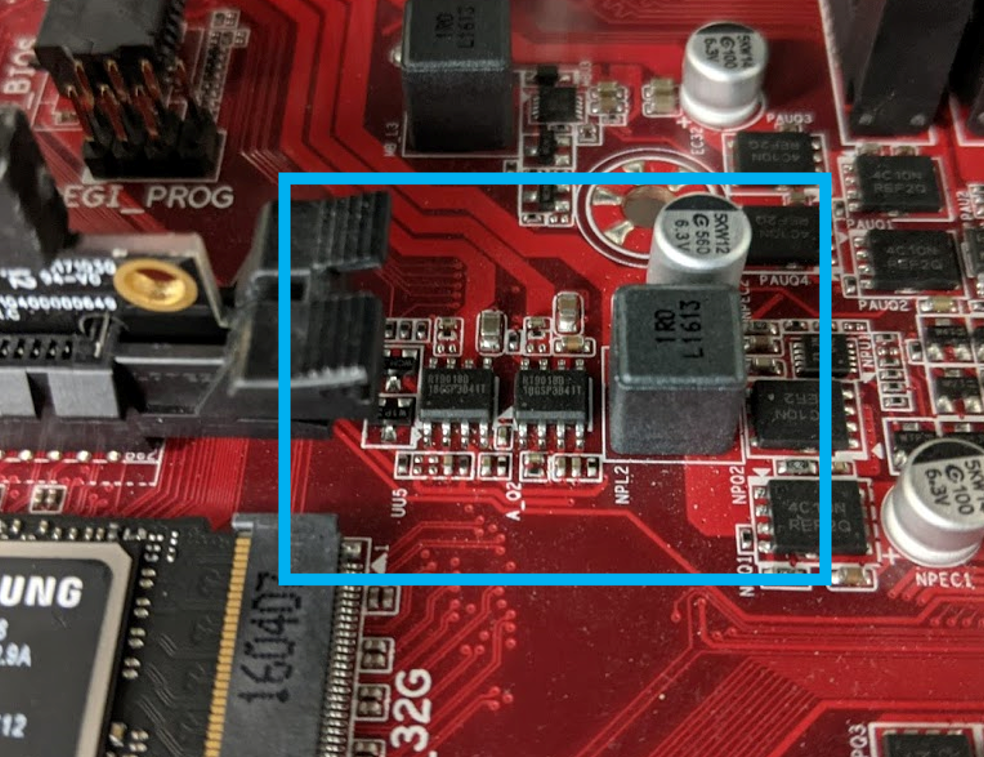 In these images, we can see a general IC on the board heating up as it performs its assigned function. Notice how the thermal camera can capture the temperature in metal circuit traces in and around the IC!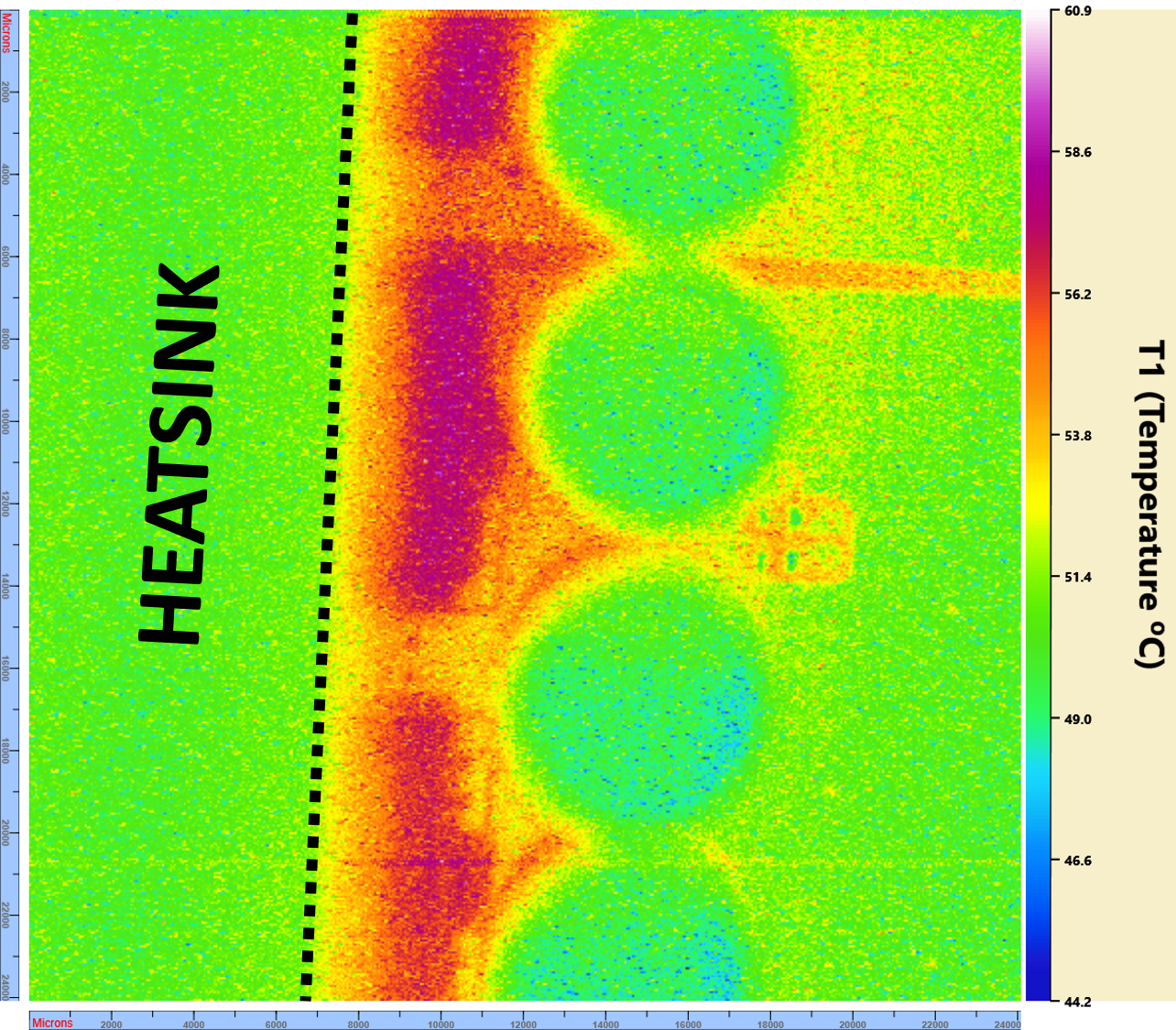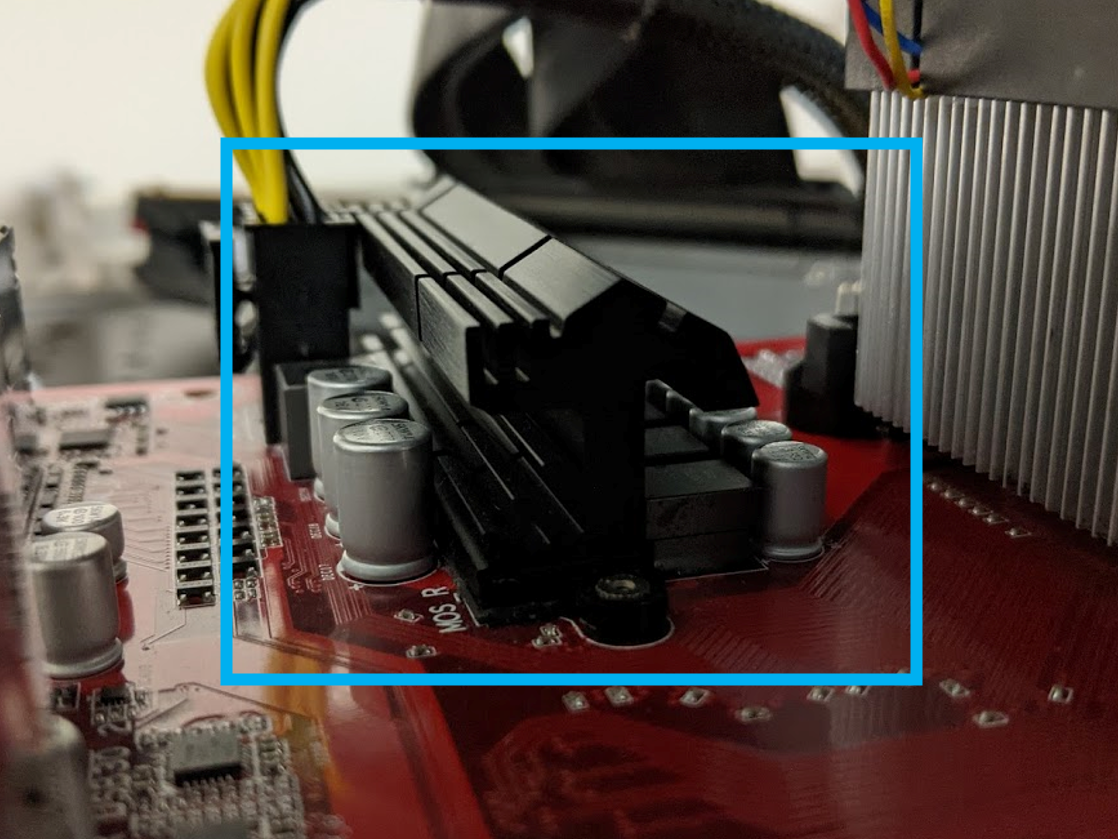 In this example, the Voltage Regulator Module, or VRM, of the computer is heating up. The VRM ensures that the central processing unit (the CPU, such as a Ryzen series chip) is receiving the required voltage to operate correctly. Because nothing in technology is 100% efficient, some of the power going through the VRM is converted straight to heat. Notice how we can only see slim rectangles in the thermal image. These components are half-covered up with a heatsink (the big angular metal structure in the second image). A heatsink is used to cool down the VRMs – in real-world applications the VRM gets very hot!
You may be wondering about how those colors get into the image. The camera processes the image to put a color overlay so that it is easier for us to interpret the image. In this map, the more intense the color, the hotter that area is. You can use the color bar on the right of the heatmap images to tell how hot an area is.
How can engineers use thermal images to help create better products?
If you have particularly sensitive electronics, too much heat in an area can cause a fire or melt components right off the board. This is both unsafe for the user and damaging to the device. Engineers can use thermal cameras to see where there is too much heat so that they can fix the problem before it becomes a safety issue. Engineers can fix the problem by redesigning the circuit, remanufacturing the components, or using a cooling system.
Engineers have devised clever ways to cool down components, such as using a metal block with heat pipes and fins. The pipes direct the heat away from the device and the fins dissipate the heat into the air. In the enthusiast PC building community, many members use water to cool their electronics using specialized metal blocks, pipes, and pumps. Hardcore enthusiasts who push computer chip operating speeds to their absolute limit – an activity called "extreme overclocking" – will even use liquid nitrogen (−320°F) to cool their computers!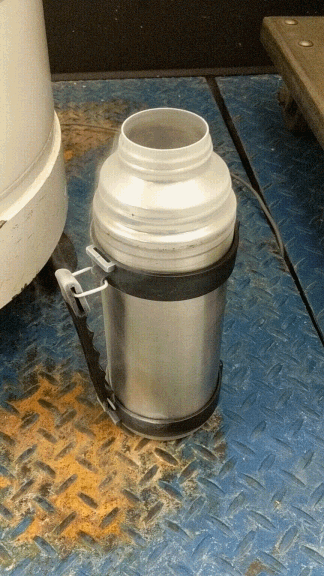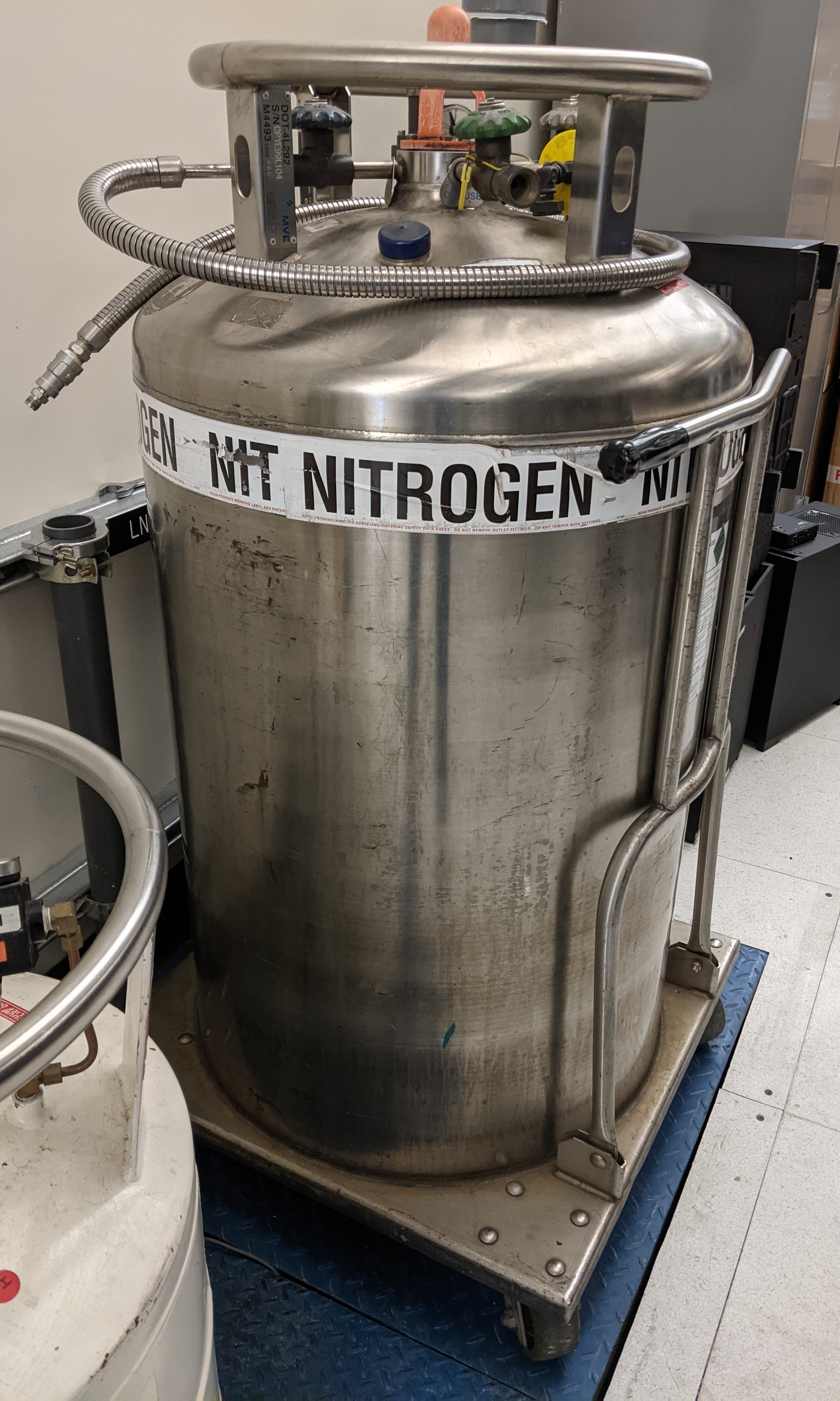 In this article, we explored how electronic components dissipate heat and how engineers can used specialized thermal cameras to see heat. In this application, we used a camera that can detect and see the infrared energy that is naturally emitted from a heat source. By using thermal cameras, engineers can ensure safe operating temperatures for the components or detect if a circuit is unexpectedly overheating. If the heat is a problem, engineers can fix the issue by redesigning the circuit or even adding a cooling system to the circuit.
From the AMD labs, thanks for stopping by! We hope you enjoyed learning about thermal cameras and hope you have a great experience at UT Girl Day!
---
Engineer Your Own Blinky Lights
I'm an engineer at AMD, and I create both complex and simple things. Some of the things I create are called "circuits", which is what all electronics are made of. I use the same process for everything I create, and I want to show you how I used that process to create a circuit that has blinking lights.
 1. Idea
The first thing I do when creating something new is come up with a goal. My goal for this project is to create a pair of blinking lights. I did an internet search for "blinking lights circuits", and found one I thought I could build.
2. Simulate
Once I had a design, I simulated it, to see how it will work before I build it. I first drew the logical representation of the circuit, called a schematic, in an online circuit simulator. This is the free simulator I used: https://www.falstad.com/circuit/ . You can see different premade circuits in the "Circuits" menu of the website. Here's a video clip of me drawing the circuit: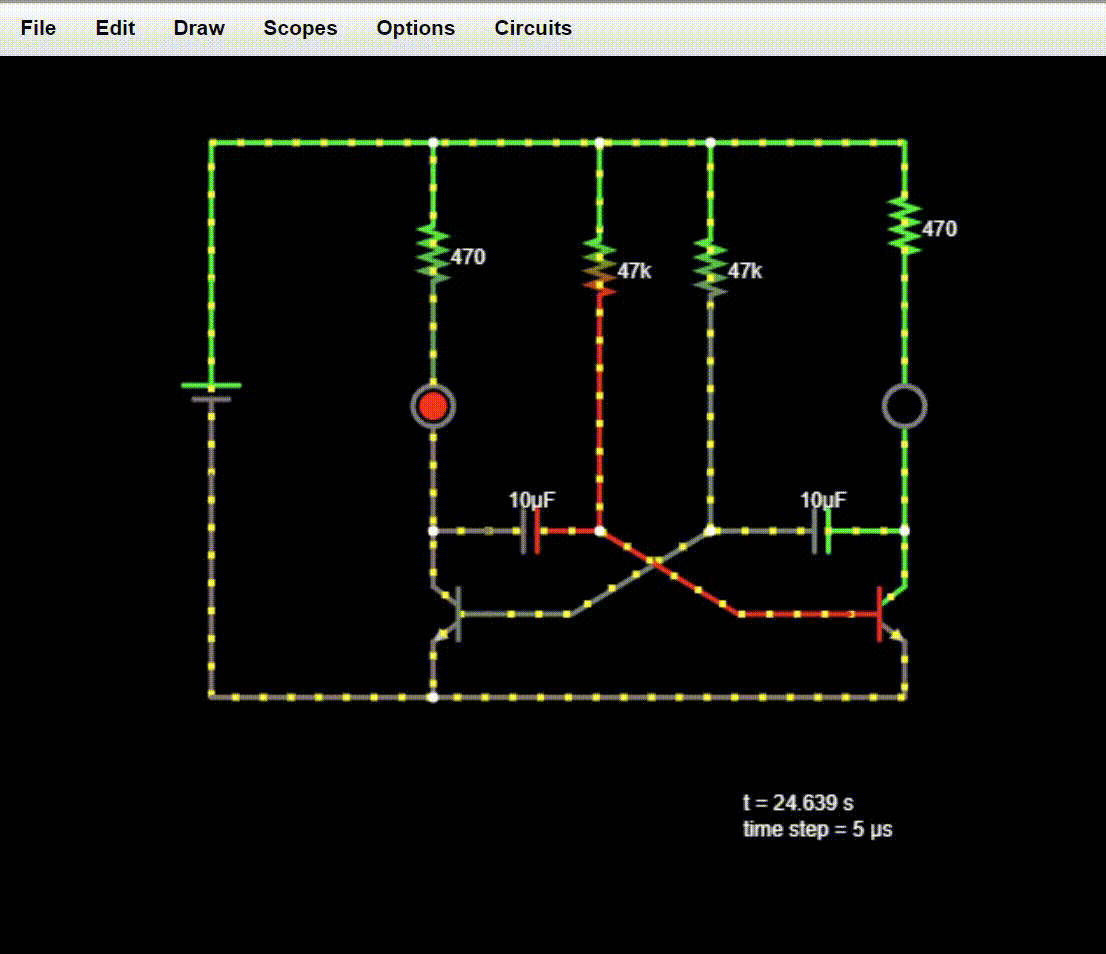 Once I had drawn the circuit in the simulator, I ran the simulator and it showed me the 2 lights blinking, just like I wanted: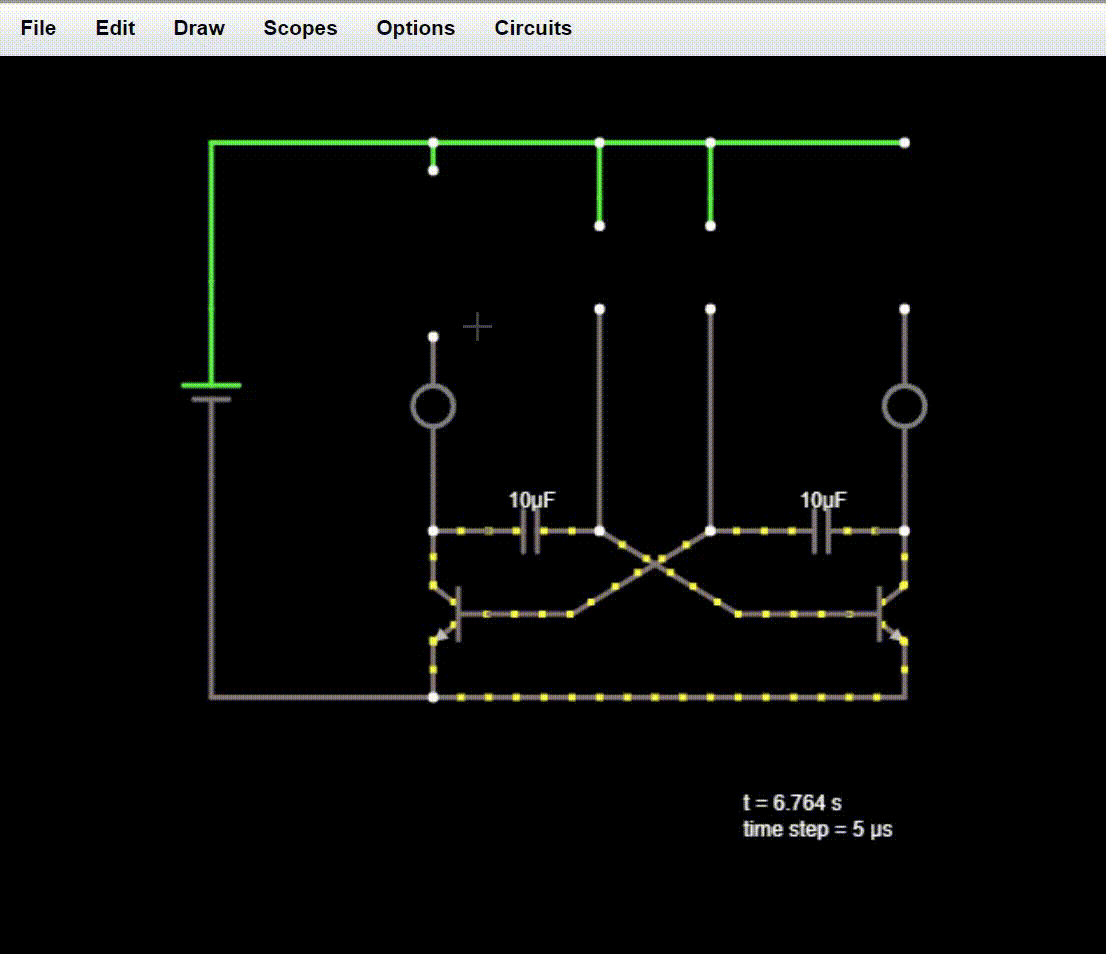 3. Materials I took a look at the materials I had and compared it to the materials I needed for the circuit. Fortunately, I had everything I needed, but if I didn't, I would make a list of what I needed and buy it.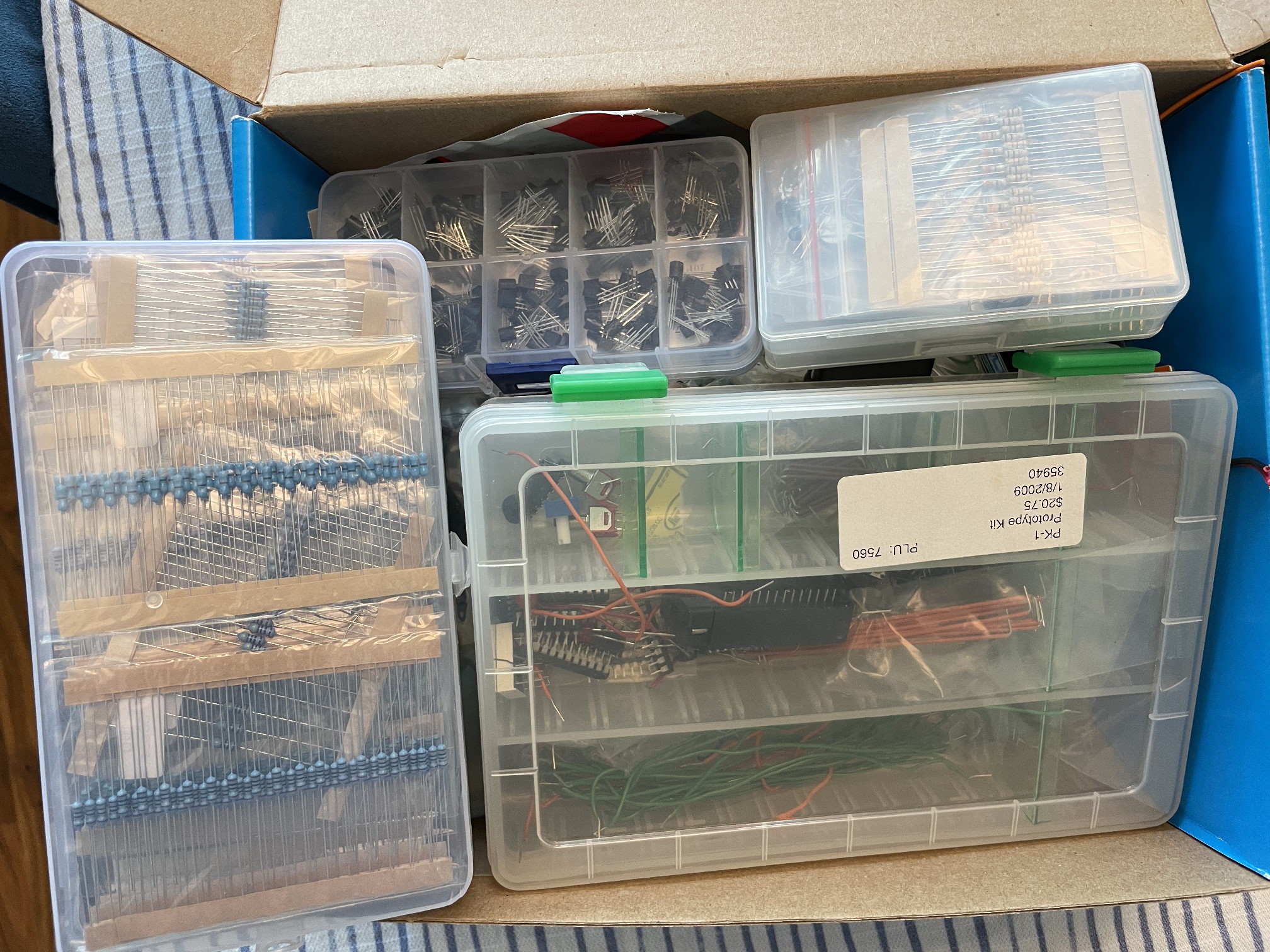 4. Build Once I had the plan and the materials, I set out everything I needed, and built the circuit: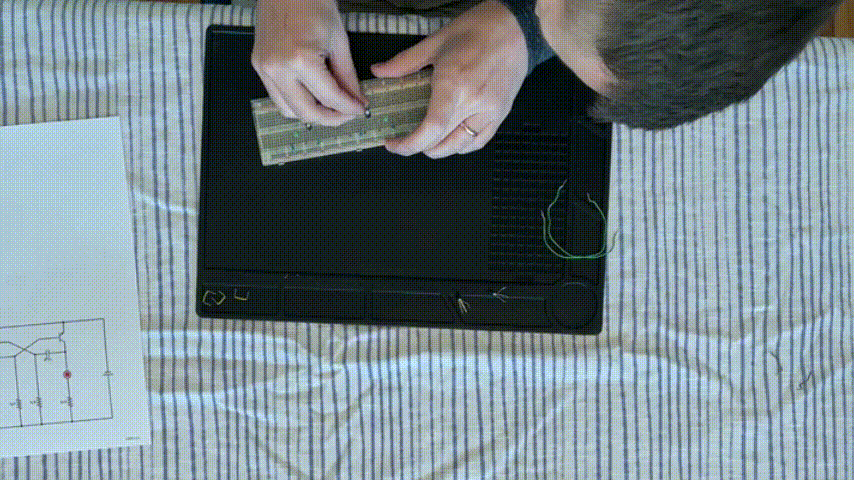 5. Debug Once the circuit was all put together, I tested it. The first time I turned it on, it didn't light up like I expected. I double-checked all my work and found I had put a light in backwards. I had put the light's longer leg on the left when it should have been on the right.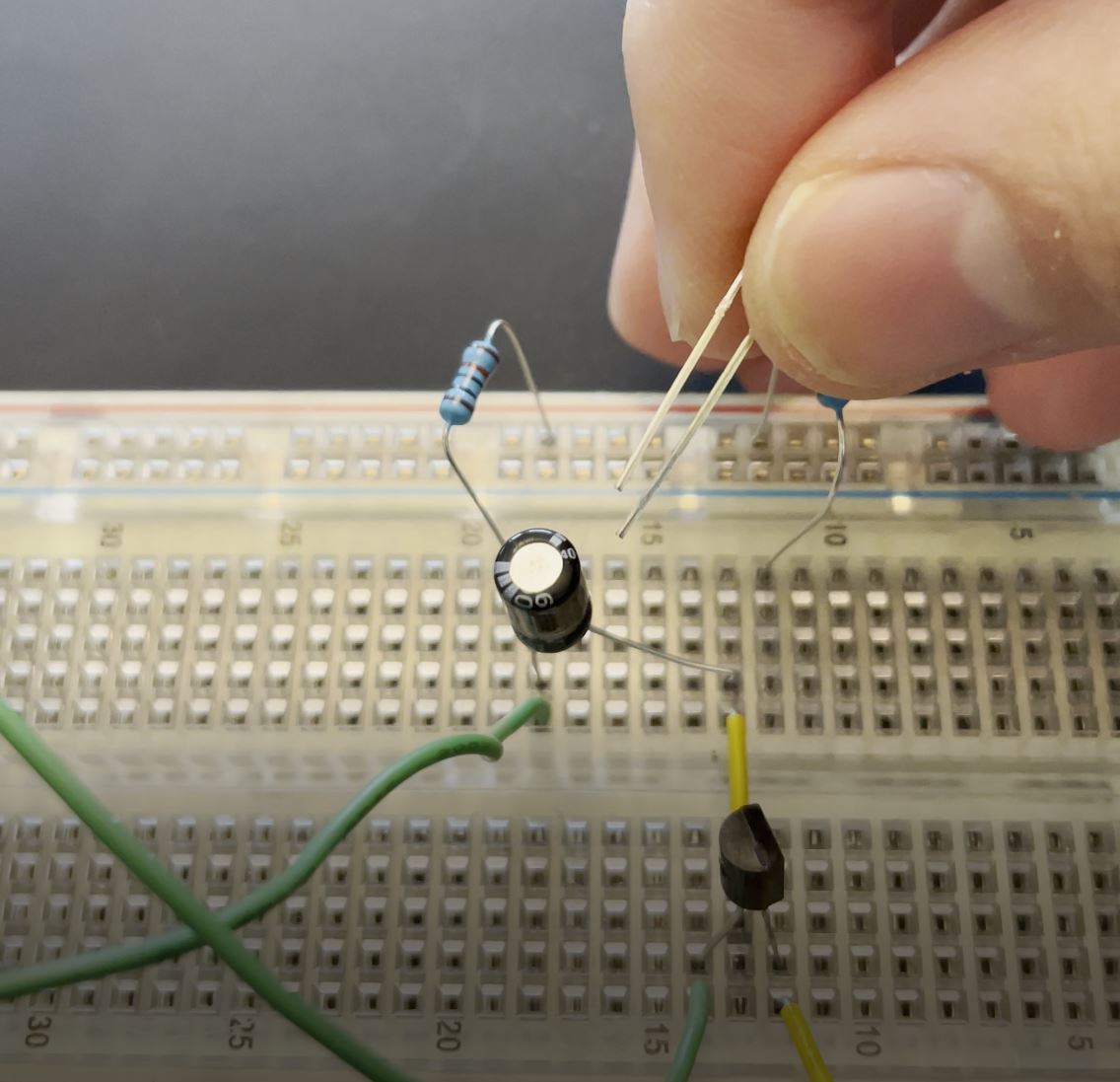 6. Show results After putting the wire in the right place, the circuit worked! It met my goal of making blinking lights, and the lights blinked the same as in the simulation.
---
PC Build Demo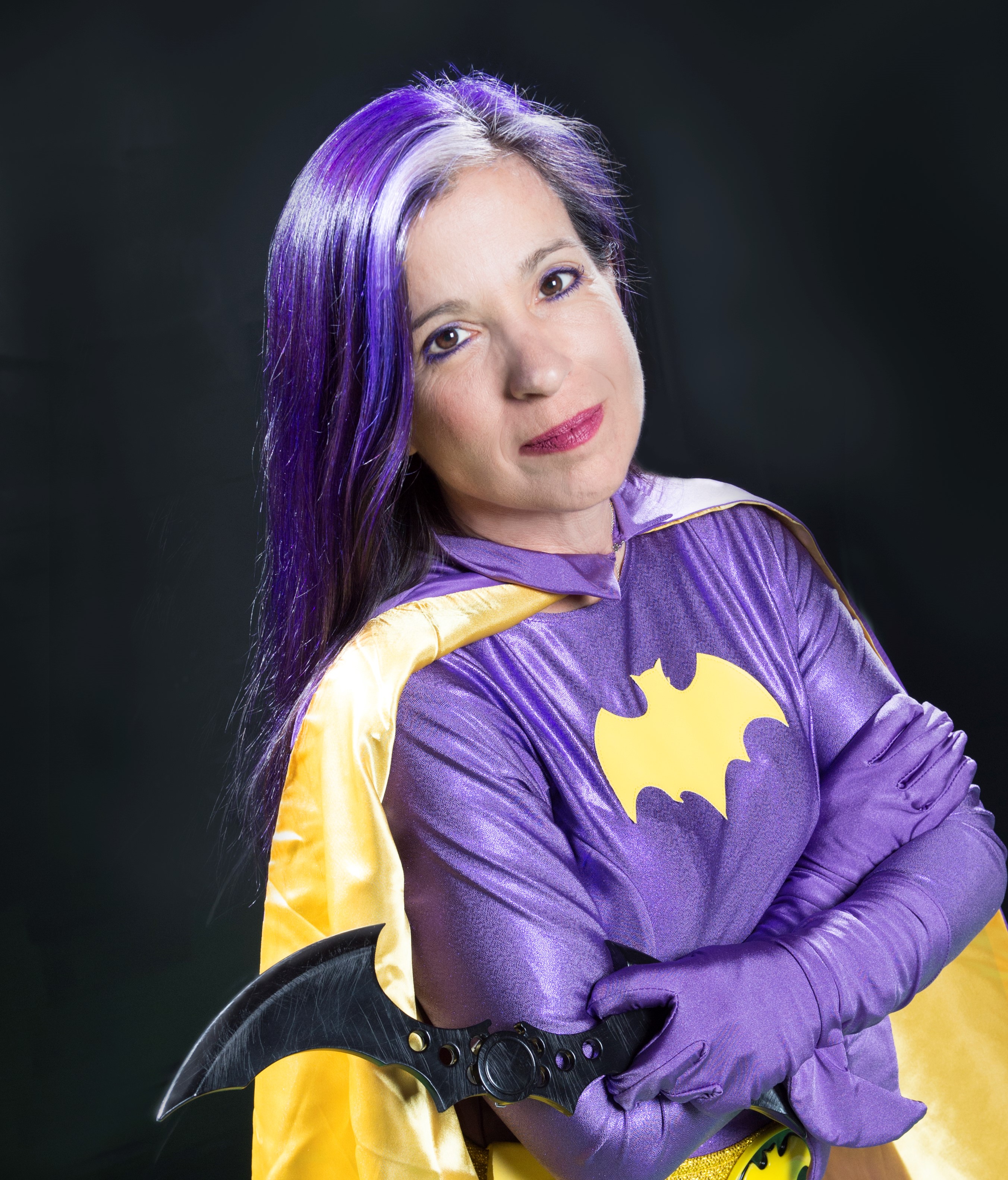 For 16+ years, Leslie has been in the gaming industry working with game developers, publishers, and influencers, as well as building PCs. Her title, Your Best Friend at AMD, transcends as her overarching philosophy on how to treat people.
Join Leslie as she talks about her career in technology, career opportunities in video games, and her love of PC building.
About AMD
AMD is proud to partner with UT's Women in Engineering Program in putting on this year's Virtual #UTGirlDay! At AMD, we are all about pushing the boundaries of what is possible in high-performance computing and helping the world's smartest people tackle the world's toughest problems. From medical devices and scientific breakthroughs to efficient energy solutions, AMD technology is helping transform lives and our planet for the better.
Today, we invite YOU – our future women engineers – to join us in pushing boundaries. We encourage you to explore, learn, and open doors to new careers and possibilities. We challenge you to think boldly and let your imagination and creativity guide you. We encourage you to be fearless, to redefine failure as opportunity and take the risks that will lead you to your next goal.
AMD's leader and CEO, Dr. Lisa Su, is a shining example of what is possible when a woman dreams big. She was recently honored with the 2020 Abie Award, an award that celebrates the vision and work of women in technology. AMD is committed to creating an environment where women from all backgrounds can thrive and excel. We hope you enjoy your #UTGirlDay experience and are inspired by the materials we have put together for you.
AMD Computing for COVID
Interviews with the AMD Team 
---
At AMD, we work hard on new products, and we also work hard on improving our community. One big way we've done that this year is by donating computer hardware to researchers that are working on COVID-19 research. The hardware we donated can do a lot of math, really fast: it can do over 1,000,000,000,000,000 operations per second! This hardware has helped those researchers understand COVID-19 and create treatments even faster. We're proud to help out both our community and people around the globe.
Our CEO, Dr. Lisa Su, made a video about this, where she talks about how we're contributing to COVID-19 research efforts, and shows some pictures of the type of hardware we're donating:
---
 Thanks for coming to learn more about AMD! Our engineers want to introduce themselves and tell you more about how they become interested in STEM – some of them knew from when they were very young, and some learned more about engineering as they got older! There are many paths ahead of you to learn and grow and you explore your interests.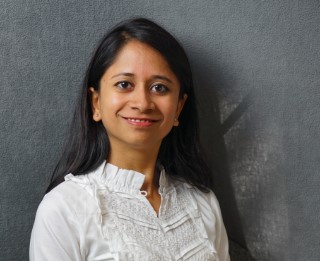 Arpitha Chandrasekhara

Sr. Product Development Engineer
"From the time we wake up early in the morning until we go back to sleep at night, we use so many gadgets that use semiconductors. What I love about my job at AMD is that I can see the products I develop go live and millions of people using and appreciating them."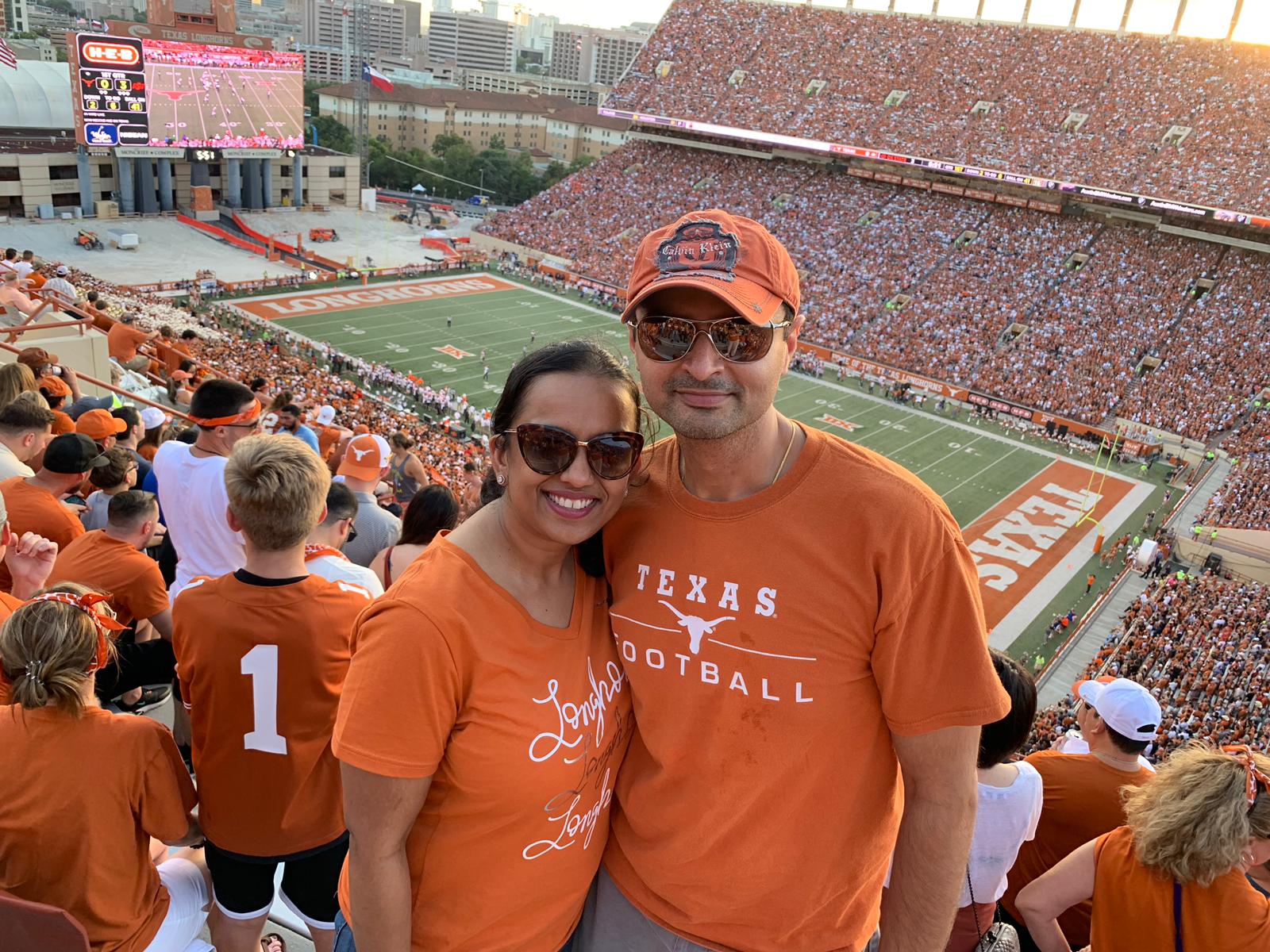 Gayathri Bhandarkar

Program Manager, Foundry Technology Operations
"Engineering means the ability to solve a problem that exists. Understanding the need of the moment, designing something to fit that need and then productizing it to be the most profitable for your company and the best quality for the consumer."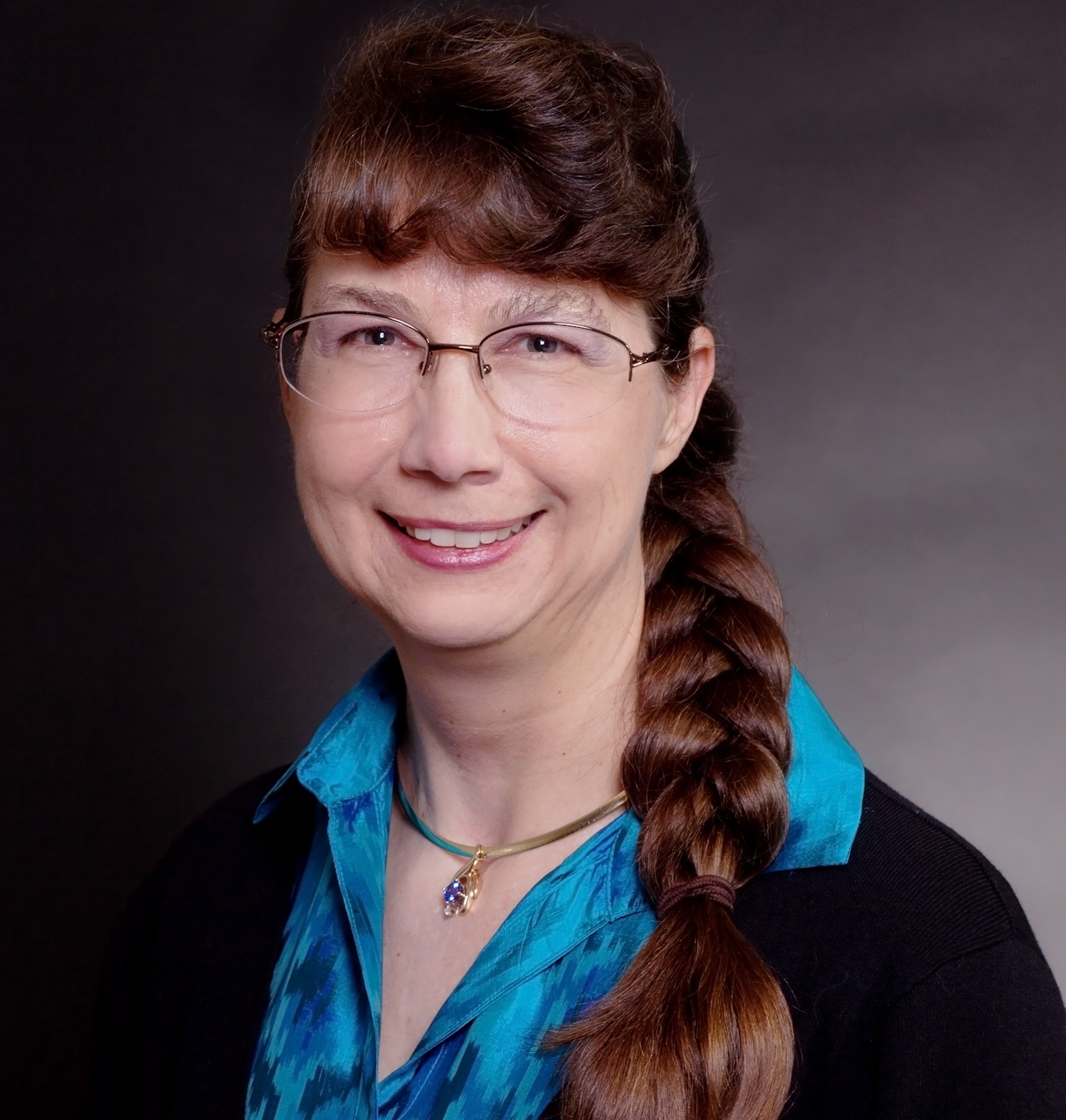 Amy Novak

Principle Member of Technical Staff, Silicon Design Engineering
"Engineering is using what you have on hand to solve a problem or make something work better."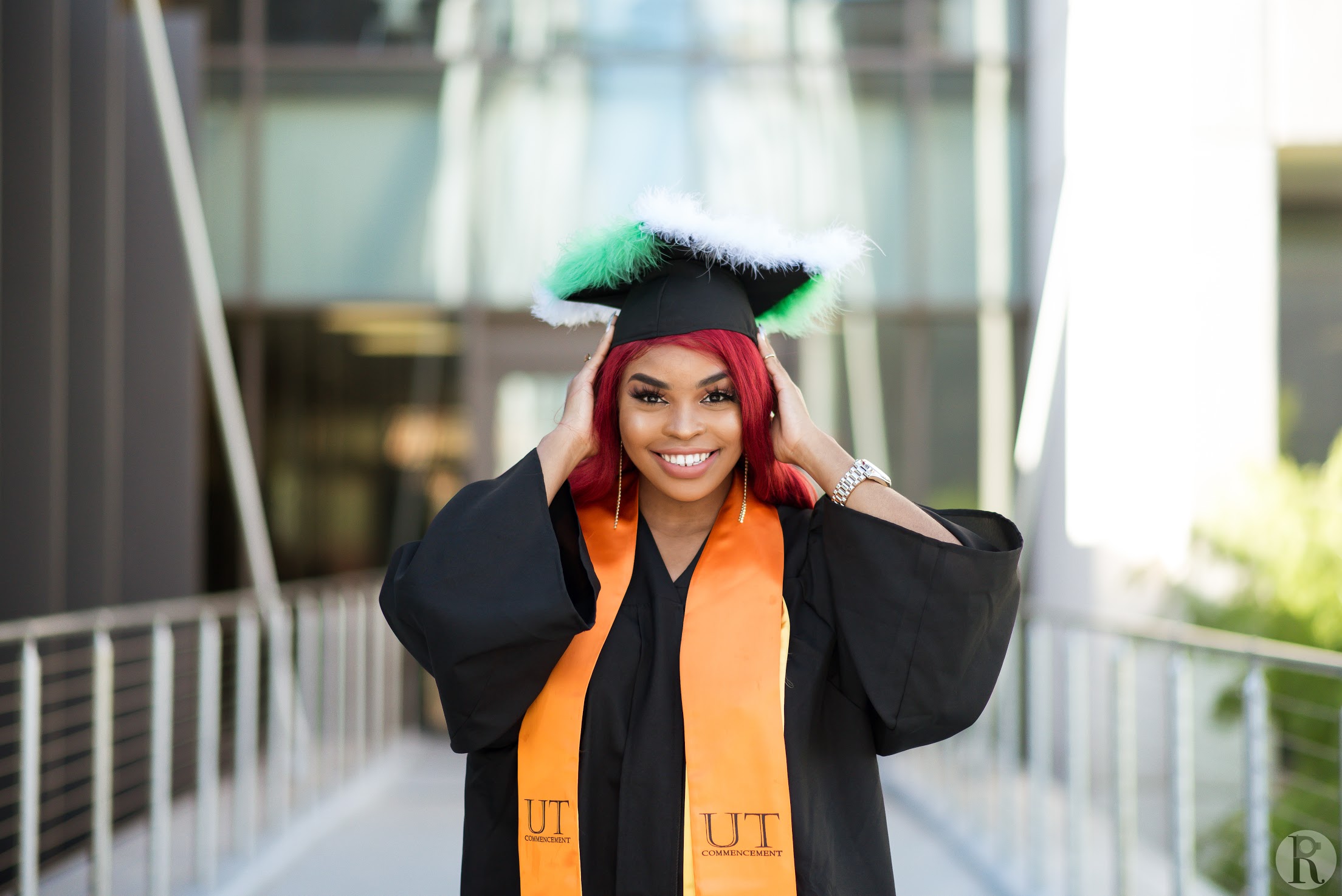 Eseoghene Igbru

Power Optimization Engineer
"When I look back at all I have accomplished, I am highly encouraged and I know I can only go forward from there. This is the mentality that students who decide to pursue a career in STEM should develop."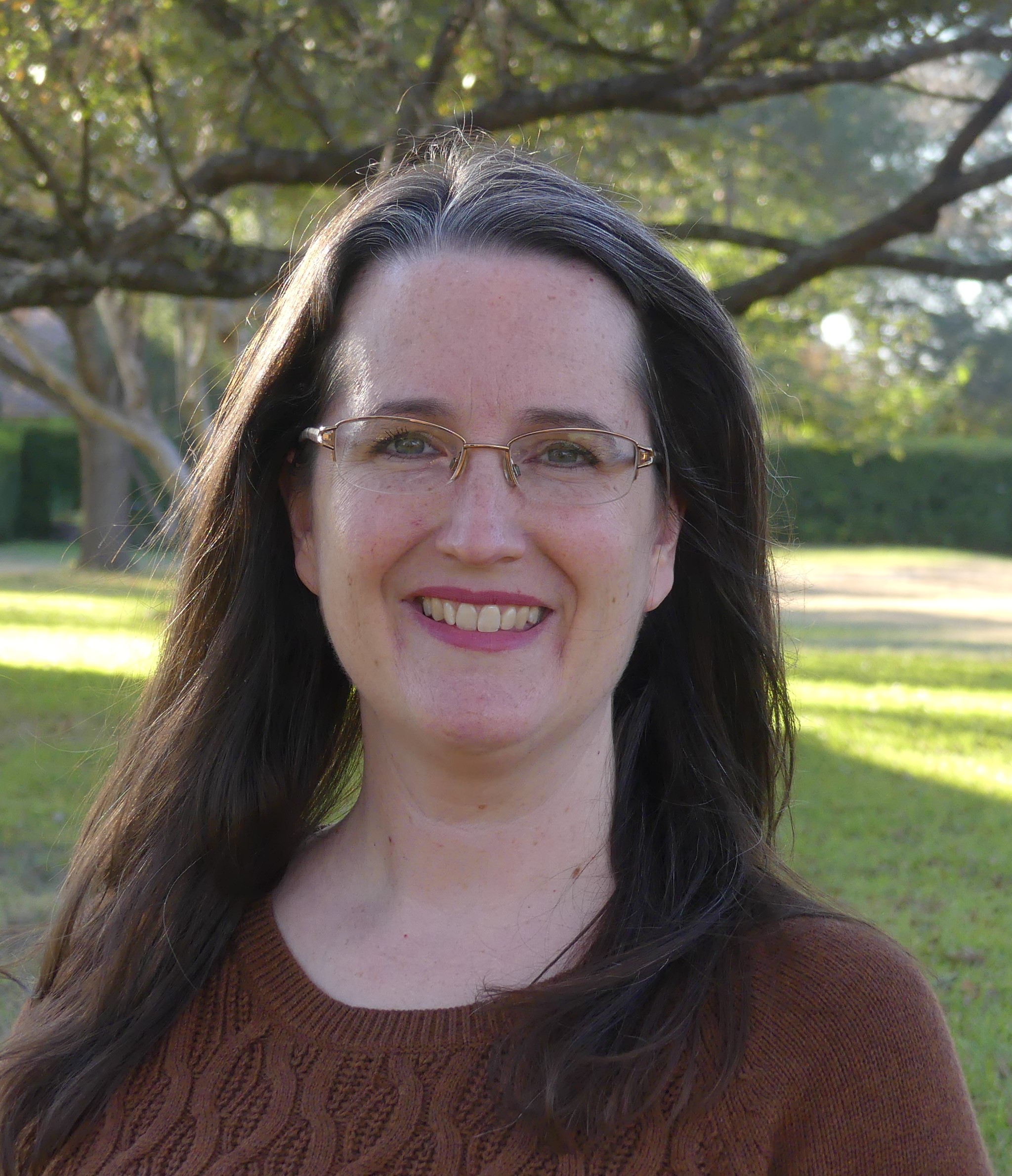 Susan Pinzon

Program Manager, Corporate Quality
"Find the people who believe in you and want you to succeed. Then as you move along the path, find people that you can support and lift up as well."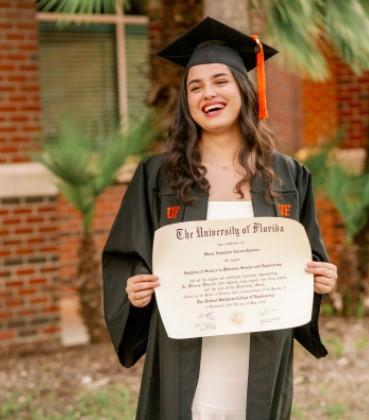 Aly Garcia

Product Development Engineer
"Engineering means that you can tackle any problem, no matter the subject. Because that's what engineers are, we are problem solvers."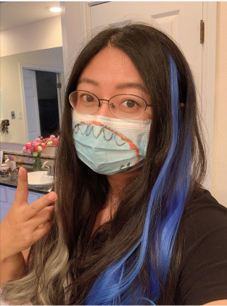 Agnes Wu

Principle Member of Technical Staff, Silicon Design Engineering
"Engineering is innovation, creation, building and problem solving. But simply, for me, it is about being smart and trying to change something and make people's life better."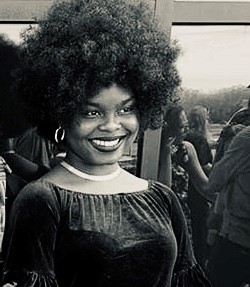 Jennifer Aruya

Product Development Engineer


"Don't let anyone tell you your goals or out of reach or exaggerate the complexity of a problem before you even start tackling it."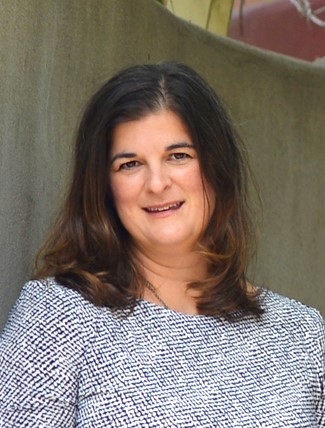 Ryan Cruz

Director, Corporate Operations


"Take on challenges, go to where the problems are – that's where the richest opportunities will be for you to make a difference and to learn. Even if you fail, there is something to learn from the failure that will grow you as an engineer or a leader."
William Polanco

Member of Technical Staff, Product Engineering
"To me, engineering is about knowing how to find solutions to everyday problems."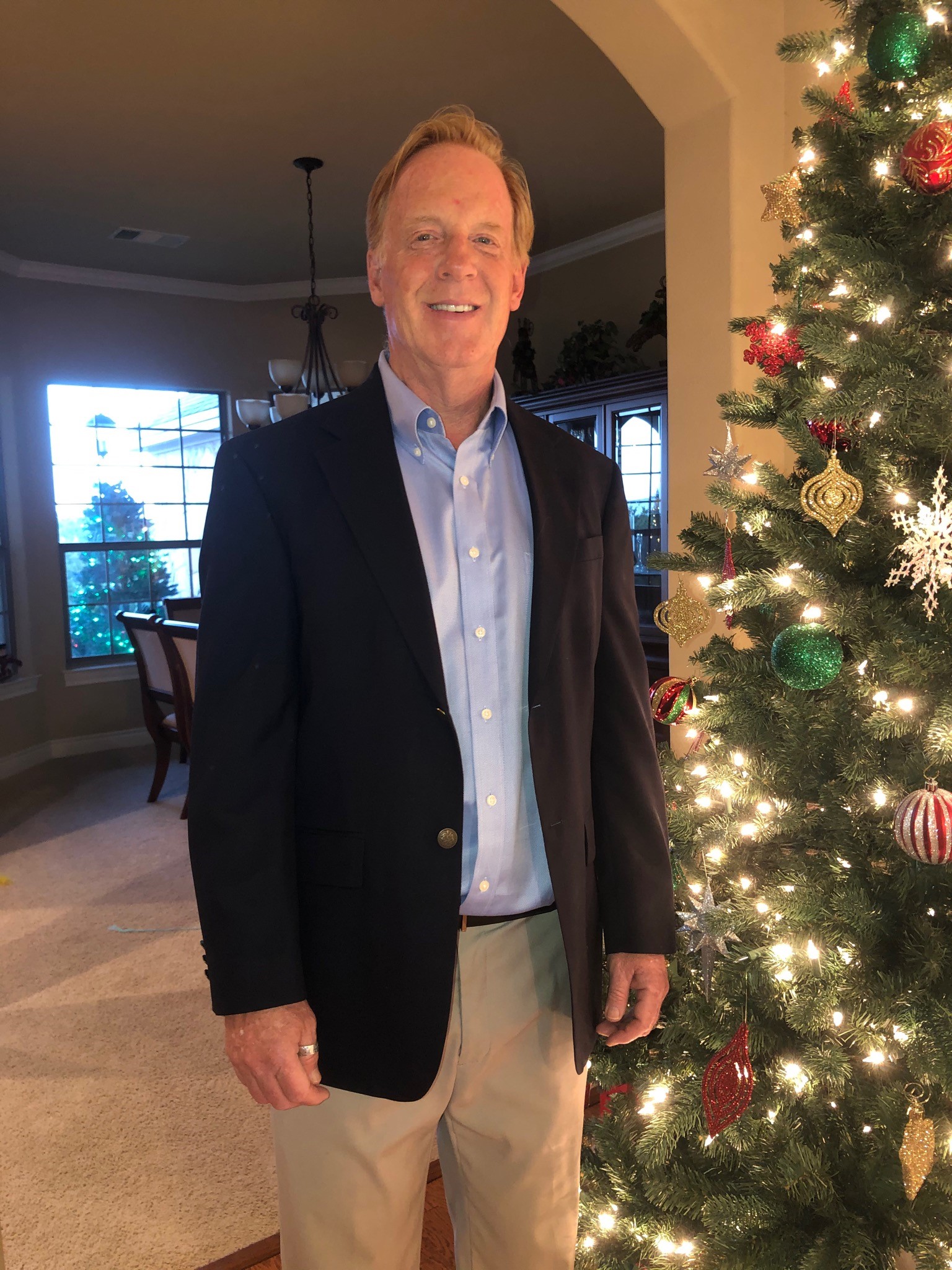 John Miethke

Principle Member of Technical Staff, Product Development Engineering
 "When I look back at my 30+ year career in semiconductor, it is astonishing what we have accomplished. When I started the personal computer did not even exist. Now we can much faster and powerful machines in the palms of our hands."

Denise Friesenhahn

Quality Engineering Director


"My best advice is the same as I tell my kids – 'You can do it!'. School teaches you how to learn. STEM will help you with many skills that are transferrable and allow you to move from project to project. Once you enter the working world, you will find your passion and can help change the world."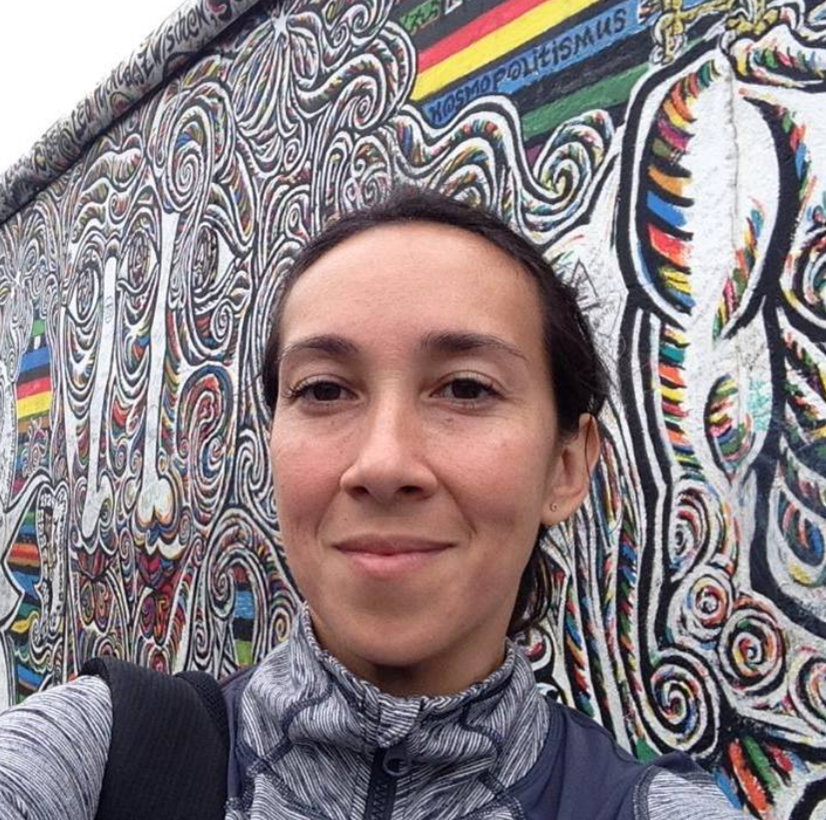 Delphine Hamant

Manager, Product Development Engineering
"My advice to students would be to never give up whatever tough situation you face. Stay on course, work hard and don't forget you are not alone."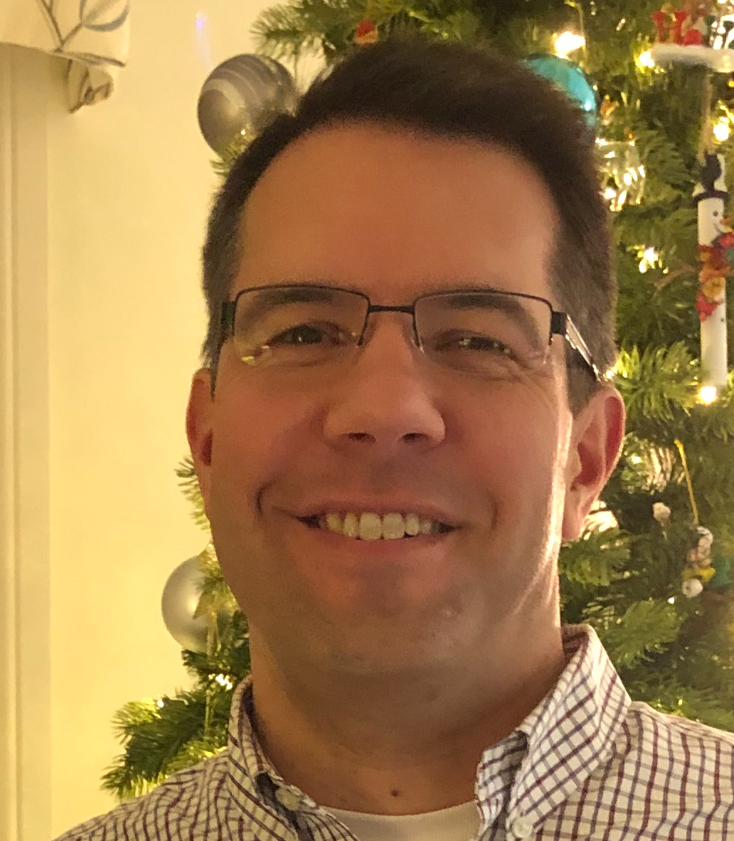 Mike Brennan

Director, Product Development Engineer
"I overcome hurdles through preparation, persistence and collaboration. At a company like AMD, you are not alone and you need to rely on teamwork to tackle many of the difficult, complex problems."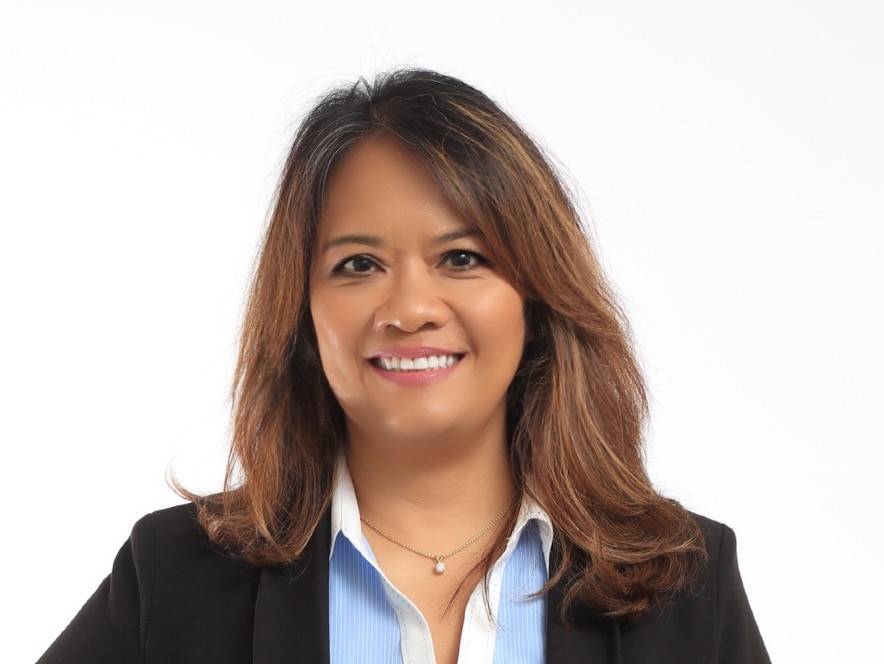 Mydung Pham

Corporate Vice President, Silicon Design Engineering
"I overcome challenges in my career by always believing in myself, staying focused and working hard."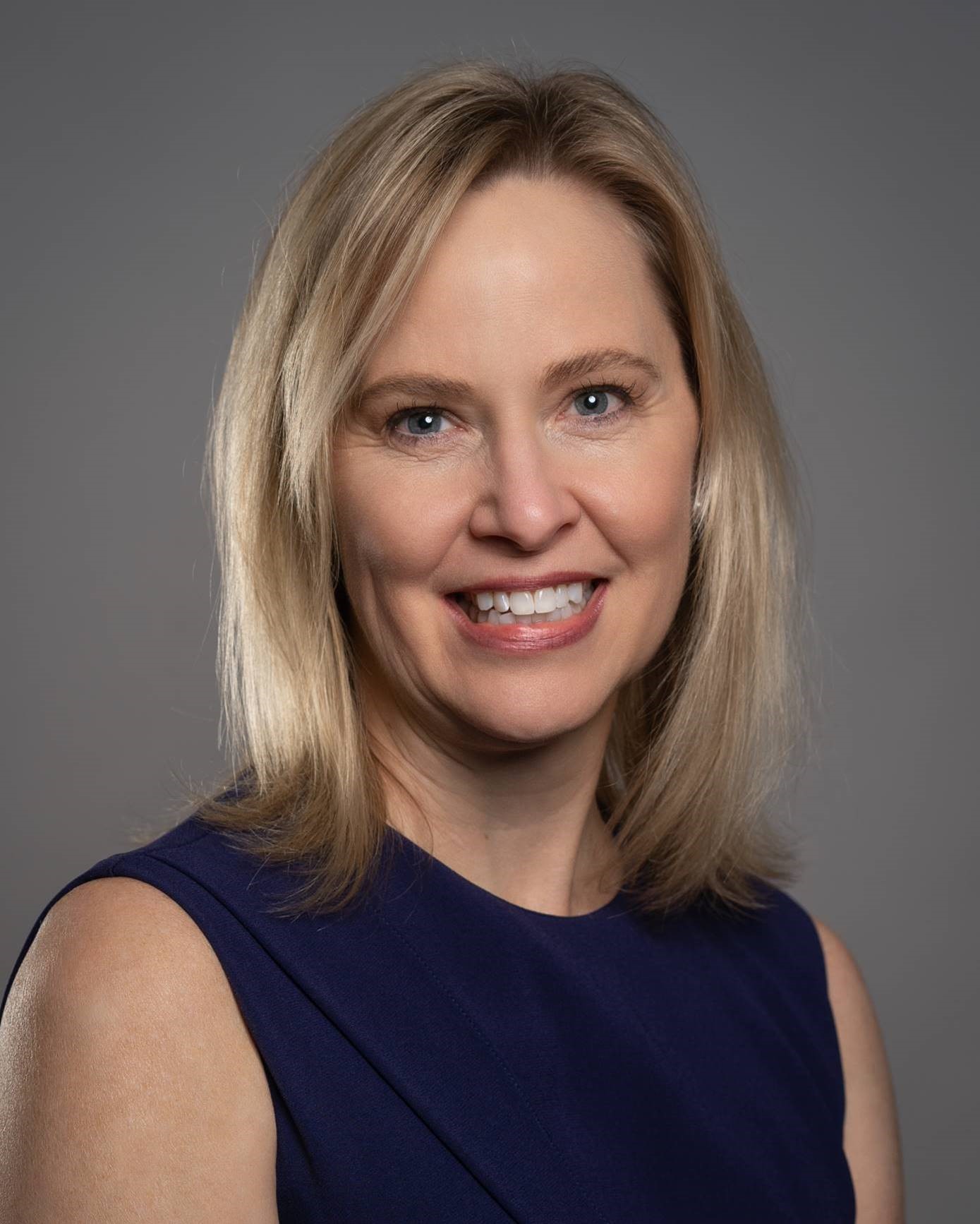 Suzanne Plummer

Corporate Vice President of SOC Design and Architecture for the Radeon Technologies Group at AMD



"STEM is such a great career choice if you have the mindset and aptitude for it. The jobs are in high demand, so you have plenty of choices and flexibility that you might not have in other professions."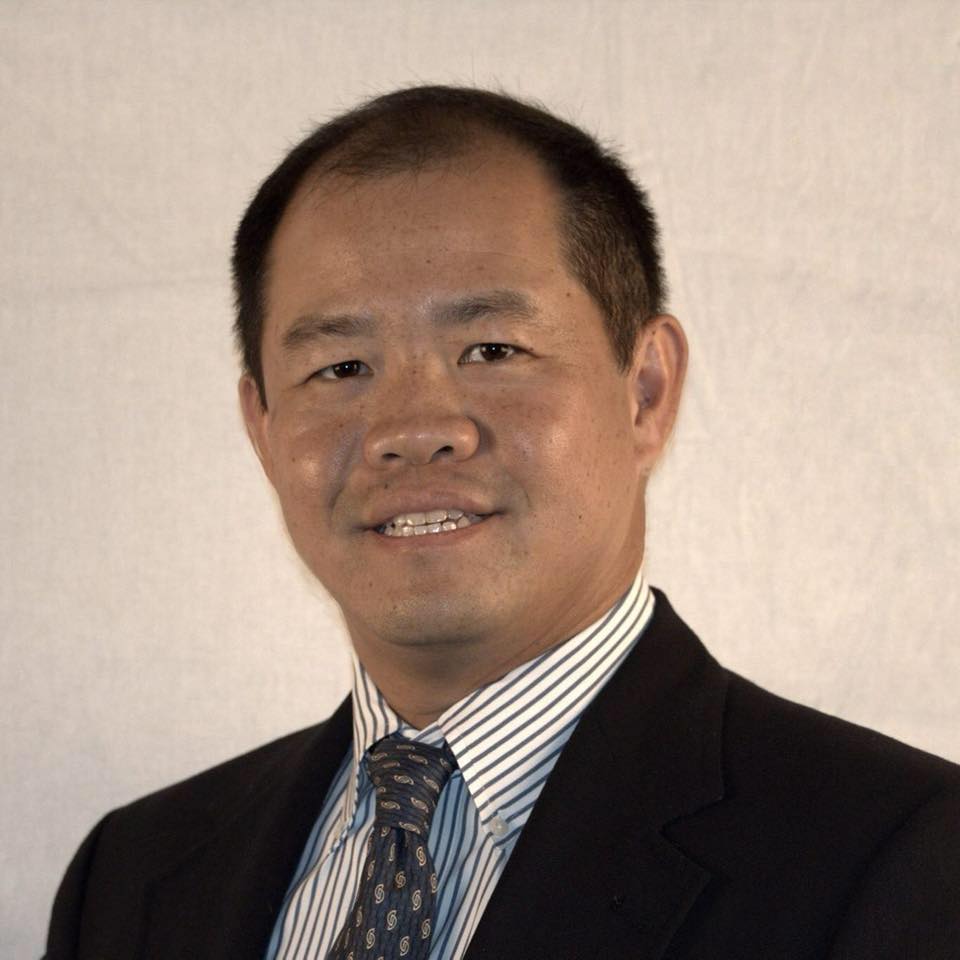 David Chang

Sr. Product Marketing Manager
"Keep going, don't give up, don't be afraid to try something new and don't be afraid to fail, learn from it and try again. "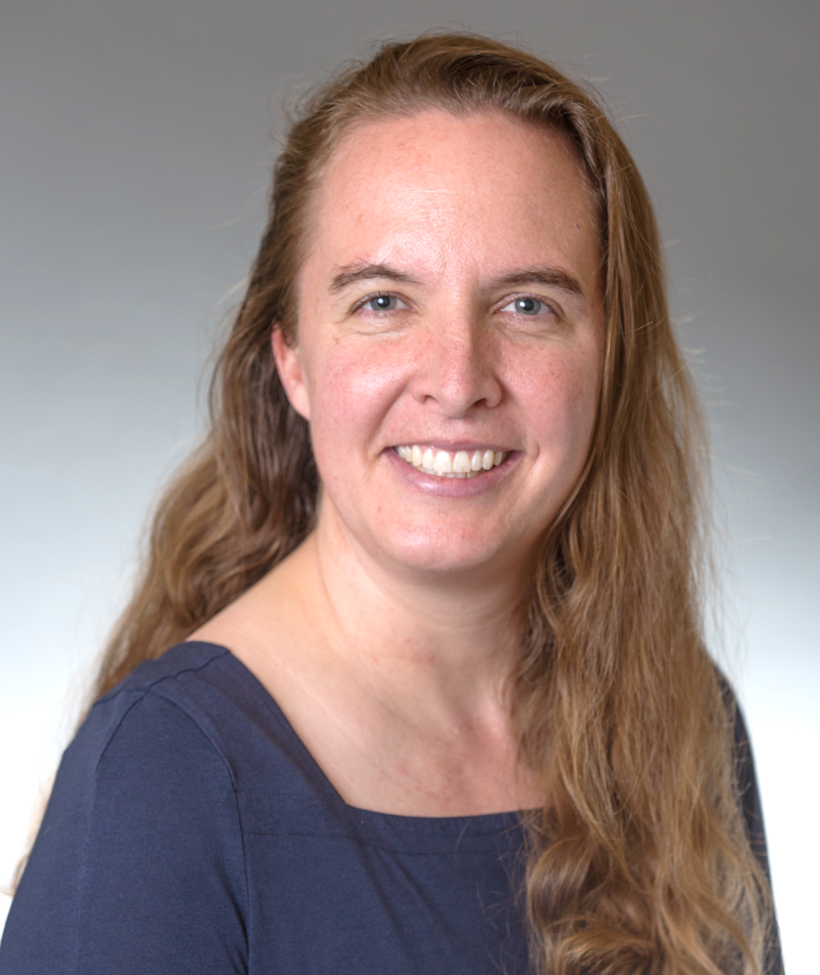 Lisa Ward

Program Manager, Product Development Engineering
"My advice to students is two-fold: ask questions and make mistakes. Finding out new things is what makes STEM fun, and questions are the key to finding out whether learning from others, doing research, or inventing something new. Mistakes are inevitable; so, learn from them and build from them, but do not give up."