Moving Around with Monkeys: ​Rainforest Layer Challenge for 3rd, 4th, and 5th Graders
Hosted by: UT Austin Primate Molecular Ecology and Evolution Lab
Visit our Booth: Saturday, March 6, 2021, 12 p.m. - 4 p.m.
Recommended Grades: 3rd, 4th, 5th
The Challenge: Learn about the places that monkeys live, and how they share their habitat with other animals. 
Recommended Materials: Paper and pen
The Amazon rainforest is the most diverse of all ecosystems in the world. There are more species of plants and animals in this tropical rainforest than in any other ecosystem on Earth. This means primates share these forests with many other animals. This is possible because within one rainforest there are many different places to live. You can compare these places within the forest to an apartment building, with many different animals living on each of its 'floors'. 
Study the image of the forest below and read the description of each layer or 'floor'. Then look at the descriptions of the animals in the table and then match each animal with what you think is the correct forest layer.
Descriptions of the layers:
Forest floor: Very little sunlight penetrates to the bottom floor. A thick covering of decomposing leaf litter and decomposing logs from fallen trees line the ground. It is humid and damp here with soil that is poor in nutrients.
Understory layer: In this very humid layer are smaller trees, such as palms, that receive less light. There are also younger trees and shrubs struggling to reach the sunlight. Because the trees are generally smaller here, only lightweight animals can easily walk here.
Canopy layer: This is the 'roof' of the forest. It is formed by the leaves and branches of trees that are close together. There is an abundance of sunlight, flowers, fruit, and leaves at this layer.
Emergent layer: This is the 'penthouse' of a rainforest, made up of the tops of only the very tallest trees. The trees tower more than 200 feet.
Descriptions of the animals:
| | |
| --- | --- |
| Layer | Animal |
|   | Toucan: This bird's large, strong beak helps it pick fruit to eat. Often the same fruits as many primates, but the species get along just fine. |
|   | Harpy eagle: This bird of prey swoops down into the canopy to catch smaller birds and primates in its deadly talons.  |
|   | Saki monkeys: These lazy primates enjoy sleeping in until well after the sun is up, and go to bed early too! In the few hours that they are active, they move through the trees very quietly, and eat the seeds from large fruits. |
|   | Titi monkeys: Titi monkeys are small primates (roughly 2 pounds) that can walk on small branches. They walk along these smaller branches to find small fruits, young leaves and insects. Their favorite food is palm flowers! |
|   | Tapir: This grazer prefers seedlings, fruit that the primates dropped on the ground, and vegetable manner to munch on. |
|   | Hummingbird: Its wings beating fast, this tiny colorful creature hovers to feed nectar from flowers.  |
|   | Spider monkey: This large primate mainly moves through the trees by swinging from one branch or tree to the next. They can use their tails as an extra limb, and moms can use this to close gaps between branches that are too far for their babies: it's like they turn themselves into a bridge for their kids! |
|   | Marmoset: One of the world's smallest monkeys, this primates does not climb as high as the spider monkey |
|   | Peccaries: These wild pigs are often found close to primates, because just like the tapir, they like eating the fruits that the primates drop on the floor. They also love a good mud bath, and scaring nearby researchers with their loud screams! |
|   | Boa constrictor: Just like the harpy eagle, this is one of the main predators of primates. It is well camouflaged to not stand out against the dark branches of trees. It eats primates both large and small, as well as other animals like rodents on the forest floor. |
|   | Dung beetles: These colorful critters like digging through the leaf litter looking for monkey poop.  |
Answers:
Toucan: The canopy layer! Toucans use their large and colorful beak to peel and eat different kinds of fruit, which happens to be the kind of food they eat most often. Sometimes toucans will choose to snack on insects, frogs and reptiles, or the eggs of other birds. Their beaks are made of a protein called keratin, which is the same material that your hair and nails are made of!
Harpy eagle: Emergent layer. The harpy eagle is an impressively large bird, it is the largest raptor in the rainforest, and one of the largest eagles in the world! They are sit-and-wait predators. They sit in the emergent layer, and wait for a nice snack in the canopy layer to come along. Monkeys are scared of these eagles, because the Harpy eagle's favorite food is… monkeys and sloths!
Saki monkey: Canopy! Though you will sometimes also find them in the understory layer, they spend most of their time in the canopy layer. These gray primates are the fluffiest monkeys in the forest. The females look like they have white mustaches, while the males have a white patches on their forehead. Seeds are their favorite foods, they have very sharp teeth that help them crunch through the hard husks around the seeds. Saki monkeys are very shy and they don't like to hang out near researchers that they don't know very well. We study them very carefully and give them all the time they need to feel comfortable around us.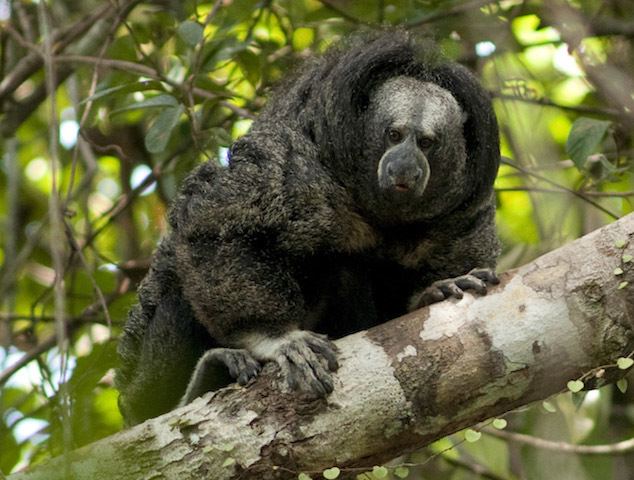 Titi monkey: Understory layer! Titi monkeys are small, and therefore can easily walk on the smaller branches in the understory. There are over 30 different species of titi monkeys and they have all sorts of pretty color combinations. Titi monkeys live in small groups of an adult female, an adult male and their kids. In the early morning hours, the female-male pairs will sing duets. Once one pair starts, other pairs in the area will often respond with their own duets.
Tapir: Forest floor! Even though a tapir looks a little like a pig or anteater, it is actually most closely related to horses and rhinos. Its nose and upper lip are combined into a flexible snout that the animal uses to reach and pull food into its mouth. A tapir is both a browser and a grazer! It uses its snout to pluck leaves from tree branches or to feel around in the underbrush for fruits that the monkeys dropped. Did you know that tapirs can eat up to 75 pounds of food per day? They also happen to be fabulous swimmers!
Hummingbird: Canopy layer and understory layer! Hummingbirds drink the nectar of flowers, so you'll find them most often in the canopy layer and occasionally they'll come down to the understory too when they know of some particularly interesting flowers. Did you know that there are more than 340 species of hummingbirds? They can beat their wings on average 50 times per second and don't just fly forwards, but also backwards and even upside down! Some hummingbird species produce sounds with their wings instead of with their throats! 
Spider monkey: Canopy layer! The understory layer has too many small branches that cannot carry the weight of the large spider monkeys, so they mainly hang out and eat fruits in the canopy layer. Their most impressive characteristic is their long prehensile tail. Prehensile means that they can use their tail as an extra arm. Take a good look at the picture below, can you see which limbs the spider monkey is using to hang on the branch? Even though they can walk on top of branches, they spend much of their time using their long arms and tail to swing from one tree to the next. What an awesome way to travel! Try to imagine that we traveled like that. Which features around your house and in the city would you use to swing around?
Marmoset: Understory layer! There are many different species of marmosets, but one of them - called the pygmy marmoset - is the smallest monkey in the world. Their diet is a little different than that of the other monkeys. They bite small holes in the trunk of a tree so that the sap comes running out. Once the sap thickens a little and becomes a bit more gum-like, the monkeys eat that gum from the trunk. Though the sap of the tree is their main source of food, they will also eat small insects.
Peccaries: Forest floor! Peccaries live in very large groups that are called 'sounders'. These large groups are really not afraid of anything and known to protect their babies very fiercely. They are related to pigs, but don't really have visible tails like pigs do. Peccaries have a diet somewhat similar to the tapis: they love digging up and eating roots, and searching for fallen fruits and other edible things in the leaf litter. Their favorite pastime is taking a good mud bath!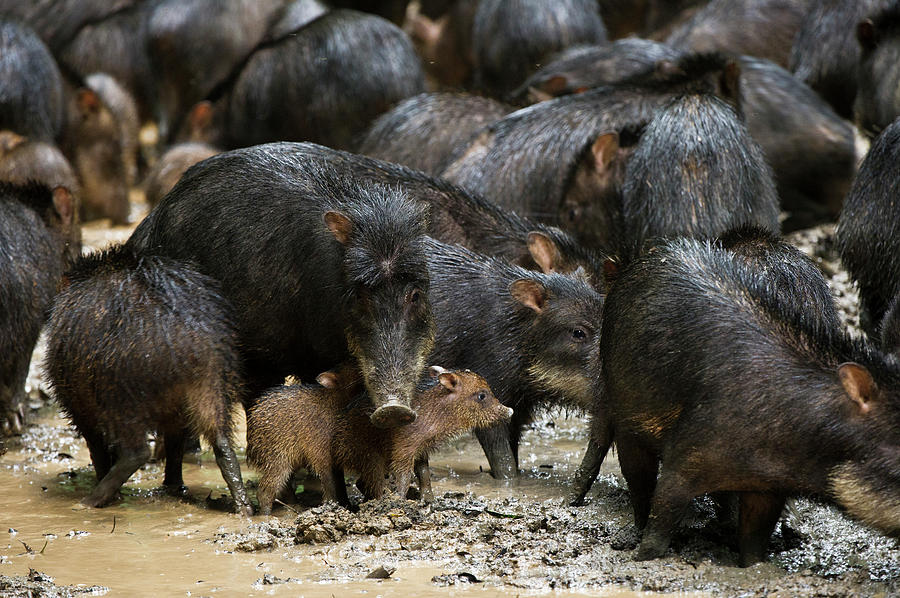 Dung beetles: Forest floor! Dung beetles are a researcher's friend. Researchers regularly collect monkey poop for genetic analysis in the laboratory. It tells them a lot about a primate's health and about who is related to who. Dung beetles have a very keen sense of smell and are always able to locate the little poops when researchers can't! 
Now that you have learned about where the primates and some other forest animals live, at which of these layers of the forest floor would you prefer to build a treehouse?
---
About Us

Who Are We?
We at the Primate Molecular Ecology and Evolution Lab are a group of professors, postdocs, graduate students, visiting researchers, and undergraduates who study primates. Although we come from all over the world, we are united by a shared love of learning more about primates, what they do, and why they do it!
What Do We Do?
Our lab conducts behavioral, ecological, and genetic research in a wide range of primate species. We combine fieldwork with molecular techniques in the lab to investigate a number of questions concerning the social systems, ecological roles, and evolutionary history of various New World primates.
Where Do We Work?
Several lab members work at our long-term research site in the Amazonian Ecuador, the Tiputini Biodiversity Station, while others have conducted field work at a variety of sites throughout Central and South America and beyond.
How Do I Do That?
If you want to pursue a career studying primates, consider majoring in anthropology or biology. Keep your eyes open for chances to get involved in research. For our younger visitors, start observing the world around you! Write down what animals are doing around you. Did you see two squirrels fighting? Why do you think they did that? Now you're well on your way to becoming a biologist or primatologist!