Get Involved!
STEM Girl Day at UT Austin 2024 is scheduled for Saturday, February 24, 2024, 11:30 a.m. - 4:00 p.m.  
Corporate and Campus and Community Partners are invited to lead hands-on STEM activities, demonstrations, or information booths at STEM Girl Day 2024. Over 150 campus, corporate, and community partners are expected to participate with over 1,500 volunteers and STEM role models.
Volunteer registration will open in mid-January for college students and adults (in particular, STEM professionals).
Registration for elementary and middle school students, families, and educators to participate in STEM Girl Day 2024 will open December 1, 2023.
Tentative Schedule for campus, corporate, and community partners:
9:00 a.m. - 11:00 a.m. Set-up
11:30 a.m. - 4:00 p.m. STEM Girl Day at UT Austin: Event open to the public with STEM Activities, Events, Shows
4:00 p.m. - 6:00 p.m. Clean-up
Deadlines and Confirmation Timeline:
Both this application for participation AND a follow-on Activity Registration Form must be completed by December 1, 2023, before campus, corporate, and community partners will be confirmed to participate in STEM Girl Day 2024.
Campus, Corporate, and Community Partner Application Deadline: December 1, 2023. This form collects basic information about your organization and your interest in participating in STEM Girl Day 2024.
Activity Registration Form Deadline: December 1, 2023. The Activity Registration Form will be available from October 1 - December 1, 2023, and sent to all confirmed applicants. The Activity Registration Form collects all logistics information regarding your planned activity, demonstration, or information booth including all Environmental Health and Safety requirements.
A late fee of $1,000 will be charged for any organization applying to participate or completing the Activity Registration Form after the December 1 deadline. This assumes space is still available after the December 1 deadline.
UT Women in STEM (WiSTEM) provides...
20+ years experience and name-brand recognition of UT Austin's national award-winning STEM outreach and recruitment program.
Logistics, facilities, and activity/demonstration planning support.
Access to K-8 participants and community including Girl Scouts.
Public relations including press kit for partners, press releases, media advisories, promotional flyers and City of Austin proclamation.
Campus resources, including activity space, custodial services, WiFi, water, electricity, limited parking, website, app, and more.
Printed programs, maps, signs, tents, tables, chairs and decorations.
Access to food trucks and campus cafes.
Online registration and communications system for participants.
Training, t-shirts, and snacks for volunteers.
Impact data and participant demographics.
Partnering Organizations agree to...
Adhere to university policies and procedures.
Provide sufficient volunteers and materials to support engagement throughout the event.
Promote event and organization participation according to press kit procedures.
Ensure volunteers complete online volunteer training and receive logistics communications.
Engage participants in event and age-appropriate hands-on STEM activities.
Leave campus spaces better than they were found (clean, straightened, etc.).
Be respectful of other activities and partners (stay in designated area, manage lines and noise, etc.).
The following agreements are required on the 2024 Girl Day Campus, Community, and Corporate Partners Registration in order to participate:
I understand my organization and volunteers must adhere to all university policies and procedures.
I understand that space is limited and the organizers do their best to accommodate all requests.
I will make my assigned space work for our activity or demonstration and will adjust our activity or plans as needed.
I understand I must plan accordingly with materials and volunteers so that my activity will remain open throughout the duration of the event. Closing early is a major disappointment to visitors and does not reflect well upon the organizers, my organization, or the overall event.
I understand I must provide my own extension cords, power strips, technology, hands-on activity materials, etc. unless explicitly discussed and communicated with the organizers. These items are not provided.
I understand I must engage enough volunteers to manage my activity/demo throughout the entirety of the event. General volunteers may not be available to assist.
I understand all volunteers must complete the online training for the safety and security of our guests and event participants.
I understand the signage, activity creation/testing zone, volunteers, etc. for my activity must be confined to the space I am assigned out of respect for other organizations participating.
I understand that marketing and media, including communications with news outlets, must be coordinated through Women in STEM (WiSTEM) at UT Austin. My organization will use appropriate hashtags and tag event organizers when posting about the event.
I understand that UT Board of Regents prohibits solicitation on campus without an approved written agreement. Non-UT organizations may not sell anything on campus (swag, subscriptions, anything). UT Austin student organizations must get approval from WiSTEM for food or swag sales at STEM Girl Day.
I agree to read all organizer communications, pass on appropriate information to my volunteers and other organization leaders or participants, and follow all safety training requirements.
I agree to ensure our space/room/area is completely cleaned at the conclusion of the event. This includes ensuring all trash is appropriately disposed in trash bags, all signs are removed, all materials returned to their appropriate place, and the space/room/area looks like we have never been there.
I understand that my organization will be responsible for paying for any cleaning penalties or damage to our space/room/area. Our organization will be notified within one week after Girl Day about any charges and will be invoiced within one month of Girl Day.
I agree to check out with the appropriate information tent or building coordinator or online as instructed before our organization departs the event.
Questions?
Please direct questions to wistem@utexas.edu.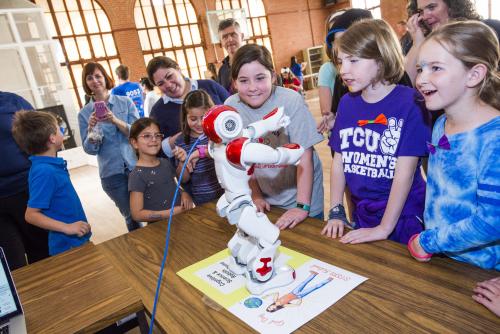 Thanks to our partners!
Girl Day at UT Austin is free each year to the public thanks to the generous support of our corporate and community partners. See the list of our most recent STEM Girl Day Partners showcased by partner category.